Discover more from Weekly Innovation Review (WIRE)
Insights and news on the world's leading innovators
Headline Developments
Snap Inc (SNAP) released a stellar set of results this week.  Revenue increased by 52%, Average Revenue Per User (ARPU) jumped 28%, and Daily Active Users (DAUs) grew 18%.  These results come on the back of increased investment in their Snap Originals, Lenses and AR "try-on" experiences.  One of the more popular Snap Original series is Jayden Smith's "The Solution Committee".  The results also showed that more than 40% of US-Gen Z's tuned in for sports content on the platform last month (a new-ish area for Snap),
Netflix (NFLX) results were also released during the week, but failed to generate the same level of excitement as Snap!  The last quarter was a little underwhelming, adding 2.2 million new paid subscribers (vs 3.57 million expected).  However, as you can see in the graph below (courtesy of Netflix), 2020 has been a bumper year overall with year to date net adds forecast to top prior years considerably. Total subscribers are expected to surpass 200m in Q4.  Production has also restarted on Stranger Things (Season IV), The Witcher (Season II) and The Rock's Red Notice.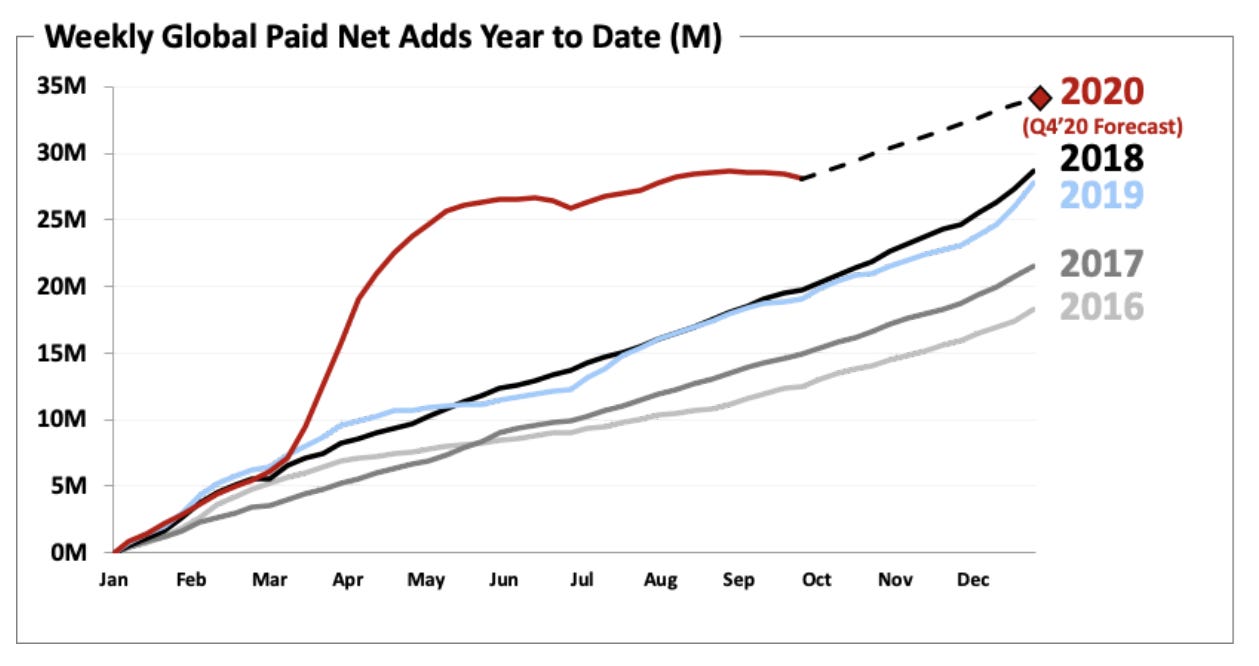 Amazon (AMZN), the owner of the world's leading game streaming platform Twitch, have announced that a select few are testing their new Luna gaming platform.  Luna is a cloud gaming platform in the same mould as Google's Stadia and will cost $5.99/month v Stadia's $9.99/month.  Amazon said they had 'hundreds of thousands' of applicants to test the platform, and they expect to add more in the coming months. [Image Source: cnet]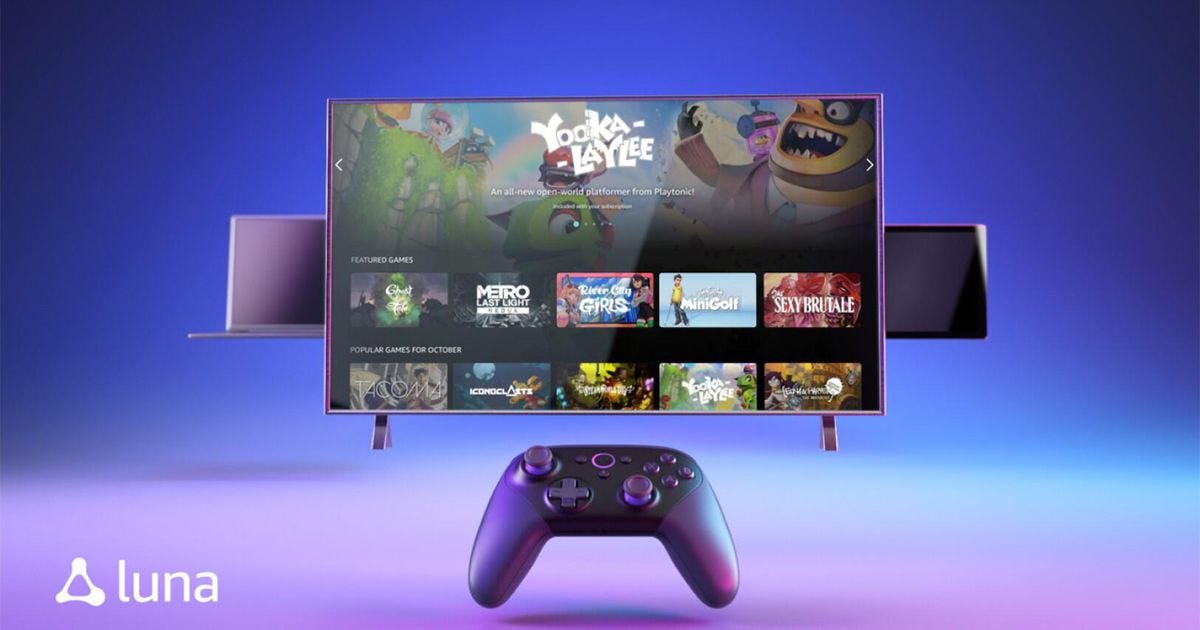 Facebook (FB) has launched Facebook Dating in Europe, one year after going live in the US.  The platform leverages all of the data Facebook captures about us (what we like, where we go, where we live) to find our ideal partner.  It also has a "secret crush" feature so you can nominate nine friends you're interested in (they'll only know if the feeling is mutual!). [Image Source: Facebook]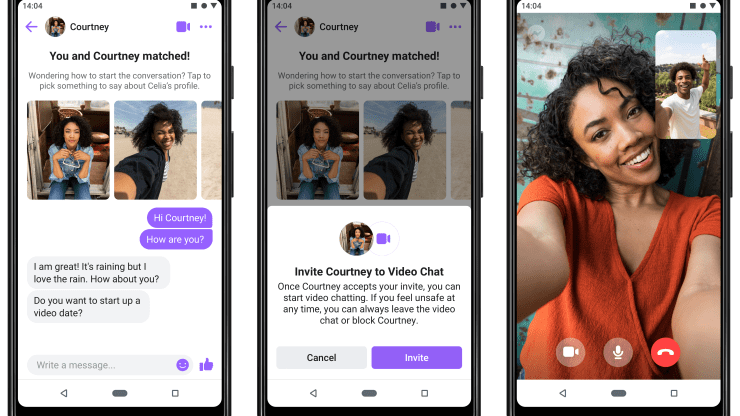 The US Department of Justice (DoJ) filed an antitrust lawsuit against Alphabet (GOOG) this week. The DoJ wants to stop Google "from unlawfully maintaining monopolies through anticompetitive and exclusionary practices in the search and search advertising markets".  Regulators are miles behind the curve here, and we believe any action to limit Google's strength will be largely futile.  Whatsmore, the case will take years, at which point, there will be a considerable shift towards ubiquitous search (i.e. voice and chat) led by a broader field including Apple, Amazon, Facebook, Microsoft, Alibaba, Tencent.
Tesla (TSLA) will be rolling out a beta of its Full Self-Driving (FSD) capability next week.  The National Highway Traffic Safety Administration (NHTSA) will "monitor the new technology closely and will not hesitate to take action to protect the public" due to nineteen prior Tesla crashes where they believe a form of self-driving tech was being used.
Intel (INTC) are selling their loss-making NAND business to South Korea's, SK Hynix (000660.KS).  The consideration is $9 billion ($7b now and $2b in 2025) and enables Intel to focus more on edge, cloud and 5G.  For SK Hynix, the deal will see them accelerate to be the number two NAND flash manufacturer behind Samsung (31% market share) and ahead of Kioxia (17%), Western Digital (16%) and Micron (13.7%) according to Forbes.  Separately, Intel's earnings this week disappointed the market due to lacklustre data centre earnings and falling margins.
SK Hynix's parent, SK Telecom (017670.KS), have also been busy in Silicon Valley, striking a deal with Uber (UBER).  In this deal, SKT will split off its mobility business, T Map Mobility (TMM), into a separate unit which, in turn, will establish a JV with Uber ("newco").  Uber will invest $50 million in TMM and $100 million in newco.
Qualcomm (QCOM), leaders in mobile chips, are joining Intel with an investment in 5G infrastructure.  The company will be selling Radio Access Network (RAN) chips and related hardware and software to enable base station customers to build "virtualised radio access" networks. This would allow base station owners to develop their own architecture (i.e. radios from one provider, processors from another).
Political stoushes continue for Huawei!
Sweden is the newest member of the club to ban Huawei and ZTE (763.HK) from its 5G network.  They didn't hold much back either, with the country's armed forces and security service describing China as "one of the biggest threats against Sweden".  China's Foreign Ministry Spokesperson Zhao Lijian fired back, accusing Sweden of using "national security as a pretext to slander Chinese companies, openly oppress Chinese telecom companies, and politicise normal economic cooperation" according to The Diplomat.
Rubbing salt in the wounds, the US dangled a $1 billion carrot in front of Brazil during the week.  Officials from the Export-Import Bank of the United States (EXIM) and the US Government, signed an MOU to fund up to $1 billion in opportunities in 5G and telecommunications.  This is meant to incentivise Brazil to buy gear from Huawei's competitors.
Other Developments
Every week presents incredible innovation in space technology, and this week is no different!
NASA and Lockheed Martin (LMT) successfully landed its OSIRIS-REx spacecraft on an asteroid this week.  The craft 'kissed' the surface for a mere 6 seconds.  OSIRIS-Rex is expected home in 2023 (with asteroid sample in tow).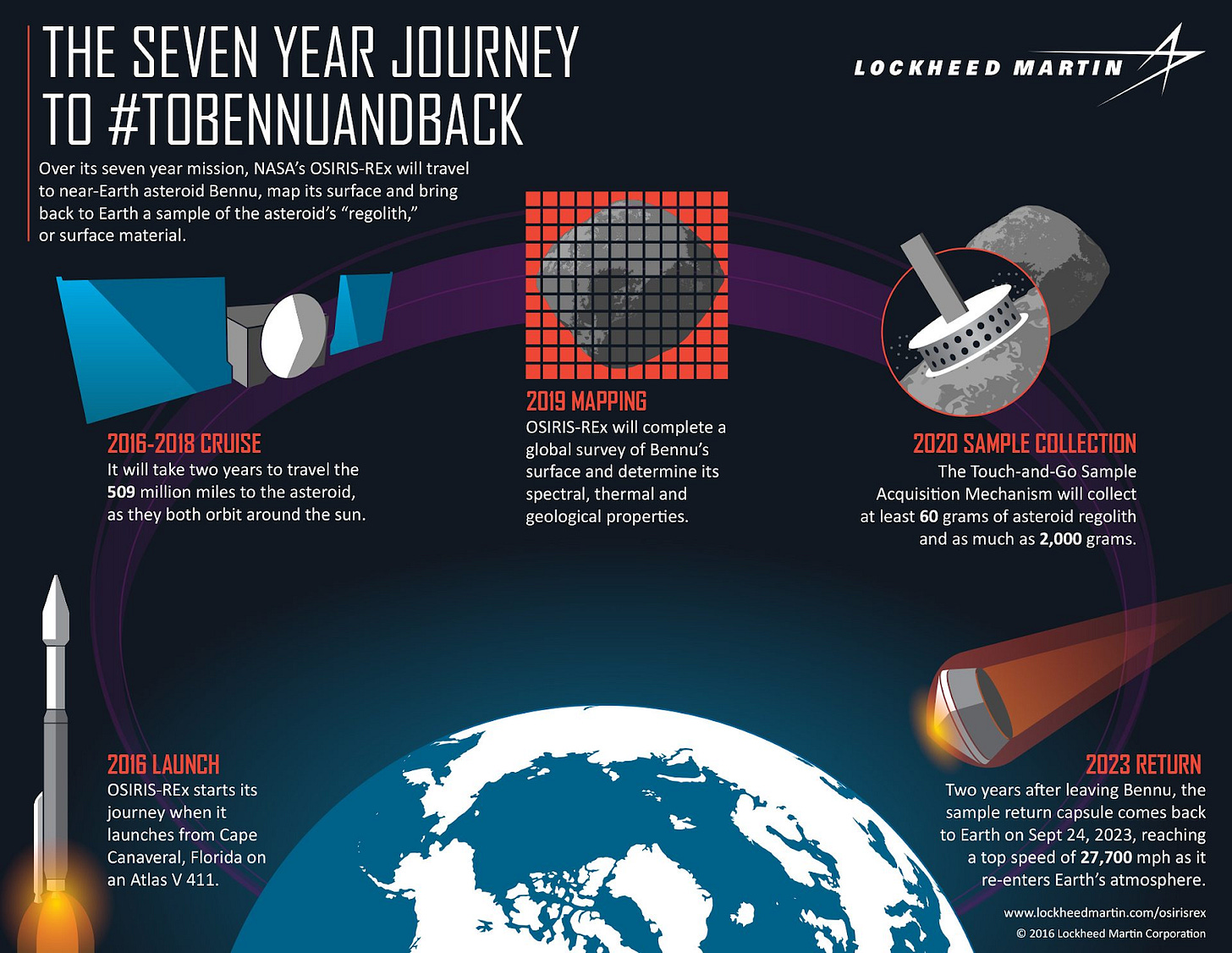 Nokia (NOK) is expanding into a new market, announcing plans to install a cellular network on the moon.  Nokia was selected by NASA to deploy an "ultra-compact, low-power, space-hardened" wireless 4G network.  Nokia also announced a partnership with Verizon (VZ) to create private 5G networks for large manufacturing, distribution and logistics facilities (to replace WiFi).
Microsoft (MSFT) launched its Azure Space initiative during the week, a "multi-orbit, multi-band, multi-vendor, cloud-enabled capability" which connects modular Azure datacentres with an ecosystem of satellite providers such as Space X and SES SA (SESG.PA).  Other partners include Kratos (KTOS), Kongsberg (KOG.OL) and Viasat (VSAT).  This follows Amazon's (AMZN) Aerospace and Satellite Solutions, a more vertically integrated solution leveraging Amazon's 3,236 satellites (to be launched by 2029). [Image Source: MS]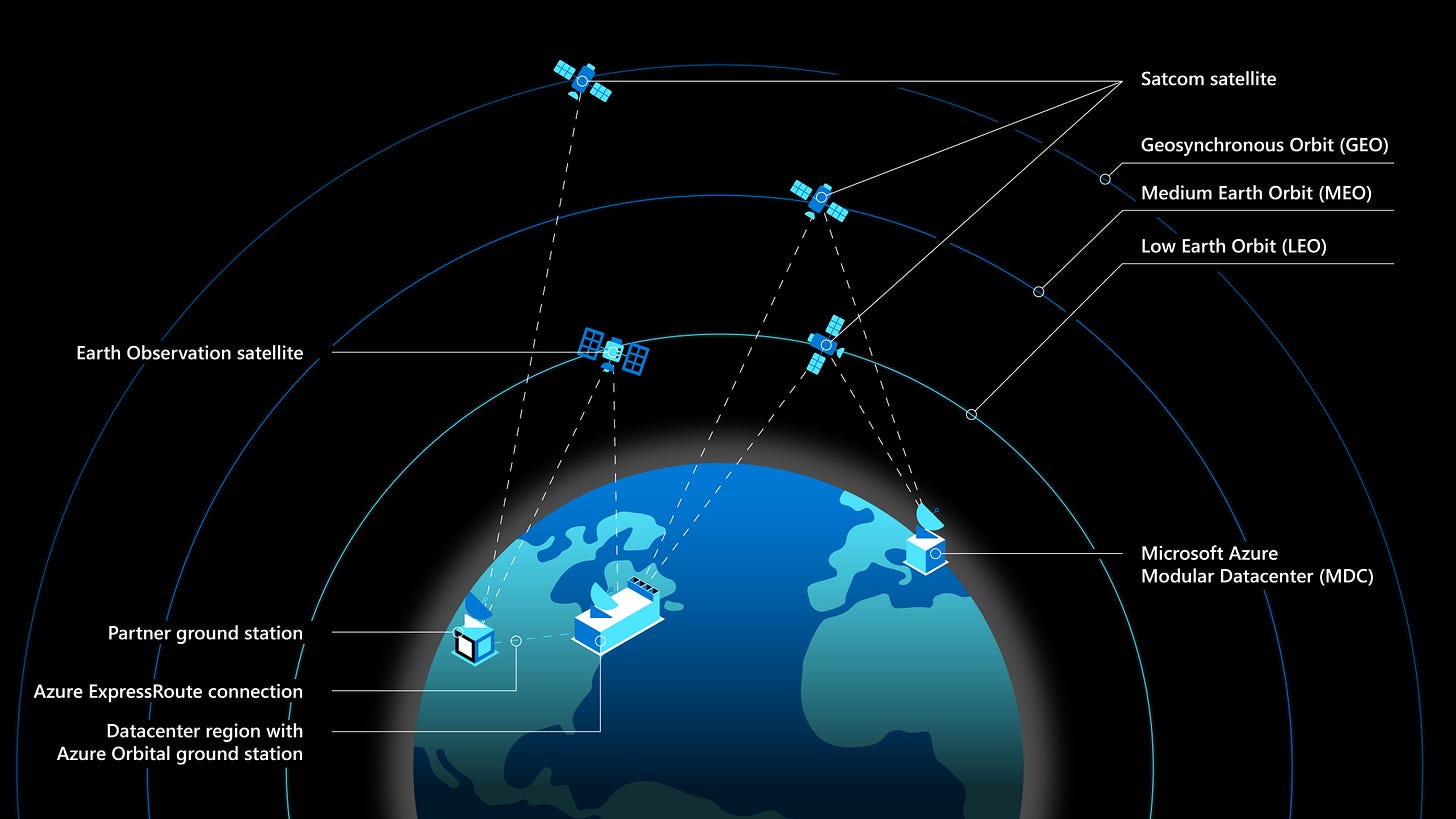 Australia's Seeing Machines (SEE.L) has locked in an MOU with leading aerospace and defence firm L3Harris Technologies (LHX) for the licensing of SM's eye-tracking system for flight-crew training.  Late last year, Seeing Machines announced a deal with Qualcomm (QCOM) to deliver optimised driver-monitoring systems (DMS) on high-end infotainment platforms.
General Motors (GM) have outdone themselves, announcing an all-electric Hummer, starting at $80k with a range of 563kms (similar to the Tesla Model 3) and acceleration of 0-60mph (96km/h) in 3 seconds.  By comparison, the latest petrol-fueled Lamborghini SUV (Urus) does 0-60mph in 3.2 seconds.  It also has an interesting crabwalk function to shuffle sideways.
Toshiba (6502.JP) is targeting $3 billion in revenues from its advanced cryptographic technology by 2030.  They have teamed up with Verizon (VZ) and BT Group (BT-A.L) to pilot the technology, based on Quantum Key Distribution (QKD).  In a nutshell, QKD is a highly secure system for data communication which Toshiba claim is 'theoretically unhackable'.
Impossible Foods (Private) have continued a rapid expansion this year, bringing it's plant-based burgers to an additional ten thousand US stores this year.  The company, which recently raised $700 million, announced this week that part of that money will go towards the development of new product lines through the addition of 150 scientists and engineers in the R&D team.  One such product is a plant-based milk alternative which tastes and 'acts' like real milk (i.e. can be a perfect substitute in coffee).
Sun Cable (private) is developing the world's largest solar farm in outback Northern Territory. The $10bn project has attracted investors including Mike Cannon-Brookes and Andrew Forest. When complete, it will be visible from space and will be used to export power to Singapore. 
Jony Ive will join the Airbnb (private) as a design consultant as part of a multi-year partnership with Ive's firm LoveFrom.  Ive retired from Apple a year ago after almost 25 years as head of product design.  Airbnb is expected to hit markets this year and adding Ive to the mix is a sweetener in one of the most anticipated listings of the year.
PayPal (PYPL) will allow users to buy, sell and hold various cryptocurrencies (Bitcoin, Ethereum, Bitcoin Cash and Litecoin initially) within their PayPal wallets; and Venmo from mid-2021. PayPal will waive transaction fees on crypto for the rest of 2020 (after which they'll charge ~1.5%-2.3%). In addition, the company intends to charge a conversion spread, enabling crypto acceptance across its 26 million merchants globally. 
JPMorgan (JPM) takes on Square and PayPal, launching their own contactless card reader and app thanks to its 2017 WePay acquisition. JPM will now start to migrate a large portion of their 3 million SME customers to the QuickAccept service.
A big week for the buy-now-pay-later (BNPL) market!  AfterPay (APT.AX) shares hit $100 after the company announced a deal with Westpac to offer bank accounts to APT's 3.3 million Australian customers. Westpac subsequently sold its 10.7% stake in APT rival Zip Co (Z1P.AX) which, in turn, signed a deal with Visa to allow their users to create a virtual Zip card accessible via Apple and Google Pay.
Deals & Earnings
M&A
Alibaba (BABA) will fork out $3.6 billion for a 72% stake in Sun Art, one of China's largest supermarket chains, to give their customers a fully integrated experience.  Sun Art's 484 locations are already integrated into Alibaba's platforms Taoxianda, Tmall, ele.me and Cainiao.  Their closest competitor, JD.com, has a similar alliance with Yonghui and Walmart.
Splunk (SPLK) has announced the acquisition of two startups - Plumbr and Rigor. Both platforms provide insights on end-user experience for their client's web and app platforms. They will be incorporated into Splunk's Observability Suite which was also announced this week. As modern environments have become more complex, observability is becoming increasingly important for ensuring system reliability. Innovation in this space is driving strong growth for players such as Elastic (ESTC), Dynatrace (DT) and DataDog (DDOG).
Juniper Networks (JNPR) has paid $450 million to buy routing (AI driven SD-WAN) company 128 Technology. The deal is expected to be EPS accretive in 2022 and will be part of Juniper's enterprise business unit.
Capital Raise
Australia's v2Food (Private), backed by CSIRO and billionaire Jack Cowin (of Hungry Jack's fame), has raised an additional $55 million from Goldman Sachs, Temasek, Sequoia China and several others as it looks to push into the Asian market.
Applied Intuition (Private), which creates software for AV tests, has raised $125 million from Lux Capital, Andreesen Horowitz and General Catalyst.
Allegro Microsystems (Private), a developer of sensors, switches and drivers for the automotive and consumer markets, plans to list on 29th October with a market cap ~$2.5 billion.
Restructure
LG Chem (051910.KS), is spinning off its battery business (~25% market share) into a separate entity.  The new company, LG Energy Solutions (which may or may not go public) is expected to be valued at around $11 billion.  The company supplies batteries to Tesla, Ford, Daimler, Hyundai, Kia, Audi, Volvo, VW and Lucid, according to Forbes.
Earnings
A heap of earnings this week across the automation and ubiquitous computing segments:
Tesla (TSLA):  Net Profit doubled YoY, to $331 million, with the company forecasting EV sales to hit half a million by year's end.

Logitech (LOGN.SW): Q2 sales up 75% YoY and operating profit up a mammoth 372% YoY off the back of the rapid shift in the work-from-home market.

IBM (IBM): Results in line with expectations, but still highlighted a third straight quarter of revenue declines.

Texas Instruments (TXN): Reported its first quarterly revenue growth in two years off the back of a surge in demand for personal electronics (and auto).  

iRobot (IRBT):  Sales beat street estimates by ~30% this quarter with premium versions of their Roomba vacuum surging 86% - mostly from a 70% surge in online orders.

Lam Research (LRCX):  Fab equipment supplier saw record quarterly revenue of $3.18 billion, up 14% YoY.  

Xilinx (XLNX):  The AMD target saw results largely in line with expectations, at $766.5 million
Have a great weekend.
Charlie
LinkedIn or E-Mail (cnave@granitebaycap.com)
---
Granite Bay Capital is an innovation focussed investment company with a deep focus on the companies at the leading edge of innovation across major themes such as AI, ubiquitous computing, sustainability, automation and longevity. Any views expressed in this article are those of the author(s) and do not constitute financial advice.